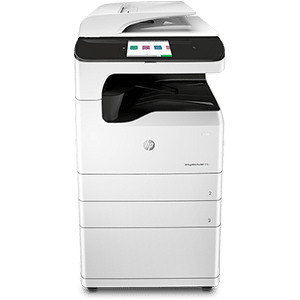 Today's business owners demand more from their office equipment than ever before. So, when it comes time to choosing the
right printer, you want to make sure you are getting office solutions that can streamline workflow and provide superior results. That's where HP's PageWide technology comes in.
If you are searching for a large-format production printer with blazing speeds, stunning quality, and affordable costs, look no further than HP's PageWide A3 Multifunction Printers.
What is PageWide technology?
PageWide models are not your average inkjet printers. Unlike their single printhead counterparts, PageWide machines have a host of printheads, spanning the entire width of the page. When you go with HP's H3 models, expect better outputs and efficiency that will blow the competition away.
Reliability
You have a business to run. The last thing you need is to be bogged down in printer problems and repairs. HP A3 models are the next-generation smart printers, leading the way in innovation. With a self-cleaning head, fewer moving parts to replace, and pro-active systems that alert you of problems, you can put your focus on running your business.
At Columbia Business Systems, we know how important reliability is for you. That is why we have partnered with the industry's top manufacturers like HP to bring you A3 Multifunction Printers that will change the way you do business.
Performance
HP has taken print speed to the next level with PageWide technology. Believe it or not, the higher-end PageWide A3 printers can reach speeds up to 80ppm. If top printer speed and performance is what you are after, Columbia Business Systems has you covered.
Security
Printer security is a must. Fortunately, HP has spared no expense developing security solutions for all their products. The PageWide A3 printer, for example, allows you to control access, track usage, and set and enforce policies, providing a better protection protocol for your business information.
Hackers are lurking in the virtual shadows just waiting to get the chance to infiltrate networks. Don't make it easy for them. With the safety features that come with our printers, you can rest easy knowing that your documents, data, and network are more secure.
When you want a high speed, high quality, and affordable HP A3 PageWide printer, reach out to Columbia Business Systems.