What is the best all-in-one printer you can get in 2021?
An all-in-one printer is a hot commodity these days. With so many of us working from home, the need for convenient, multitasking devices has never been more important. Today's printers can do it all, from printing and copying to scanning and faxing. Whether you are looking for a compact device for your home or a printer that can take on a heavy workload at your business, an all-in-one printer is the way to go. 
Considering a printer for home or office use? With a plethora of options out there, it can be time-consuming and confusing to pick the right one. If you are wondering what model to choose to meet your business needs, Columbia Business Systems is here to help clear up some of the confusion. Read on to learn about the best all-in-one printers of 2021. 
The Best Four All-in-One Printers for 2021: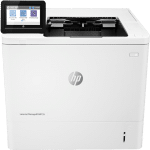 The HP LaserJet Managed E60155dn is perfect for home offices and busy workplaces alike. Complete with JetIntelligence, this all-in-one printer delivers superior performance, energy efficiency, and high-quality documents. It also features industry-leading security, protecting your network from cybercriminals. 
HP E52645dn LaserJet Managed MFP
Looking for a no-nonsense printer for your business? Look no further than the HP E52645dn LaserJet Managed MFP. This all-in-one device will not only efficiently handle all your business needs, but also helps you conserve energy with HP EcoSmart black toner.
If you are in the market for an affordable, all-in-one powerhouse, check out the Kyocera ECOSYS M2540dw. This black and white multi-functional printer is simple to use, allowing you to print, copy, scan, and fax with ease. With on-the-go capabilities, print speeds up to 42ppm, and advanced security, manage your business from anywhere. When you want all the features you can handle without the big price tag, this one is for you.
Canon imageCLASS MF525dw
One of the best all-in-one printers on the market is the Canon imageCLASS MF525dw. This sleek, streamlined printer comes with all the bells and whistles you could hope for, including fast output, generous paper capacity, and a colour touchscreen for hands-on convenience. For business and home offices with a penchant for excellence, nothing quite compares to the Canon imageCLASS MF525dw. 
Whether you work from home or the office, there is a perfect all-in-one printer to meet the demands of your specific workload. 
At Columbia Business Systems, we understand what it takes to stay current and competitive in today's changing business world. That is why we offer all the leading all-in-one printer brands that come with a long list of fantastic, functional features, including Bluetooth or integrated Wi-Fi connectivity, automated double-sided printing, scalable paper capacity options, on-the-go mobile printing, USB accessibility, and multi-level device security, to name just a few. 
Shopping around for the best all-in-one printer? Columbia Business Systems provides home office printer solutions and photocopier services for today's remote workforce.  We specialize in the sales, service & repair of multi-function Home & Office printers & copiers from Canon, Kyocera, HP & Konica Minolta Multi-function, Colour, Black & White & Home Office Printers.   
If you would like to learn about all the printer models we carry and what they can bring to your home office or business, contact us today!
Related Content: What Are The Fastest Business Printers?